February Community Education Virtual Learning Schedule
February 2, 2021

-

February 25, 2021

Free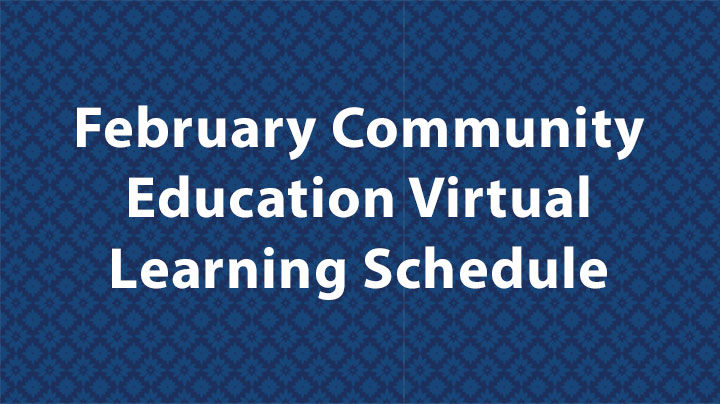 All presentations are free and open to everyone!
Consent
February 2, 2021: 12:00pm – 12:45pm
Why is everyone so confused about consent? We will examine the concept of consent together
through practical examples and skill development, including practicing consent as a skill for living
in the age of COVID-19. Participants can expect to deepen their own knowledge of consent and
walk away with strategies to better practice consent in their own lives. Click here to register.
Relationships 101
February 10, 2021: 12:00pm – 12:45 pm
Intimate partner relationships may be healthy, unhealthy, or abusive. When we are able to identify
elements within healthy relationships, we are more empowered to identify unhealthy and abusive
relationships. Participants will learn characteristics of different relationships and resources for next
steps. Click here to register.
Recognizing Teen Dating Violence
February 15, 2021: 12:00pm – 12:45pm
Nearly 1.5 million high school students in America experiences physical abuse from a dating
partner every year. Join us to learn more about what teen dating violence looks like and how we
can recognize these behaviors. Participants will have a deeper understanding of how dating
violence effects teens, and leave with resources and ways to support survivors. Click here to
register.
Coffee Hour with the Community
February 22, 2021: 12:00pm
We take in a lot of media from TV shows, movies, etc. Join Turning Point staff in viewing some
clips from popular media, followed by a discussion about how domestic and sexual violence are
portrayed and the potential impacts on survivors and the community. Click here to register.
Trigger Warning: May include content that is upsetting.
How Do I Help My Teen?
February 25, 2021: 6:00pm – 6:45pm
Do your kids roll their eyes or put their headphones in in when you try to talk about relationships?
Join us and learn how to engage in discussions with youth about relationships and resources
available to youth. Turning Point staff will use the empowerment model to educate on ways to
provide support to teens. Click here to register.